Unlock Your Radiant November Glow with Nirvana Medical Spa's Exclusive Beauty Specials
As autumn leaves fall, it's time to let your inner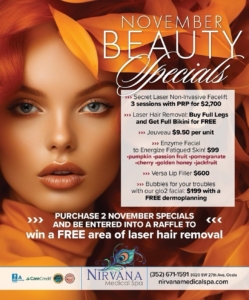 beauty shine. Nirvana Medical Spa welcomes November with a curated selection of rejuvenating beauty specials designed to enhance your natural radiance. Dive into a world of transformative skincare experiences that will leave you feeling refreshed, revitalized, and ready to embrace the holiday season with confidence.
Embark on a journey to rediscover your youthful glow with our Secret Laser Non-Invasive Facelift. Indulge in three sessions, each paired with the rejuvenating power of Platelet-Rich Plasma (PRP), all for the exclusive price of $2700. Watch as the secrets of this cutting-edge technology unveil a brighter, tighter, and more youthful complexion.
2. Laser Hair Removal: Purchase Full Legs and Full Bikini, Get One Area Free
Smooth, hair-free skin is just a treatment away. Take advantage of our Laser Hair Removal special: buy a package for full legs and full bikini, and receive one additional area of your choice for free. Say goodbye to the hassle of constant shaving and waxing, and embrace the long-lasting results of laser hair removal.
3. Jeuveau: $9.50 Per Unit
Reclaim a youthful, wrinkle-free appearance with Jeuveau, now available at an unbeatable price of $9.50 per unit. This advanced injectable treatment temporarily relaxes facial muscles, reducing the appearance of fine lines and wrinkles. Turn back the hands of time and embrace a smoother, more youthful you.
4. Enzyme Facial to Energize Fatigued Skin: $99
Revitalize tired, stressed skin with our Enzyme Facial, a nourishing treatment priced at just $99. Featuring a blend of potent enzymes from pumpkin, passion fruit, pomegranate, cherry, golden honey, and jackfruit, this facial is designed to replenish and invigorate your complexion. Experience the transformative power of nature's goodness.
Enhance your natural beauty with plump, luscious lips. Our Versa Lip Filler is available for the special price of $600. Achieve the perfect pout and add a touch of glamour to your look with this popular dermal filler.
6. Bubbles for Your Troubles with our Glo2Facial: $199 with Free Dermaplaning
Treat yourself to the ultimate pampering session with our Glo2Facial special. For just $199, experience the rejuvenating power of oxygen bubbles paired with free dermaplaning. Watch as your skin transforms, leaving you with a radiant and refreshed complexion.
Bonus: Purchase a November Special, Enter the Raffle to Win Free Laser Hair Removal
As a token of appreciation, every purchase of a November special automatically enters you into a raffle for a chance to win a free laser hair removal treatment in a selected area. Imagine the joy of stepping into the holiday season with the gift of smooth, hair-free skin.
Don't miss out on these exclusive November Beauty Specials at Nirvana Medical Spa. Elevate your skincare routine, embrace your natural beauty, and step into the festive season with confidence. Book your appointment today and let the transformation begin.
https://nirvanamedicalspa.com/wp-content/uploads/2023/11/November-2023.jpg
1304
1083
nirvanamedspaadmin
/wp-content/uploads/2018/11/preview-full-nirvanalogo-01.png
nirvanamedspaadmin
2023-11-16 19:34:59
2023-11-16 19:47:47
November Specials