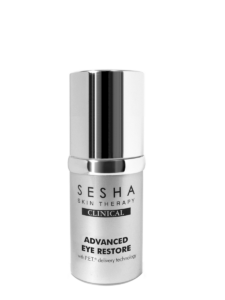 Advanced Eye Restore
This highly advanced eye rejuvenator contains a system of four revolutionary components, Argireline™, Haloxyl™, Pentacare™, and MDI Complex. This super-charged combination minimizes the appearance of lines around the eyes. Argireline™, a hexapeptide that relaxes the facial muscles, reduces the look of wrinkles while Pentacare™ tightens the outer layer of skin for a quick lift and Haloxyl™ decreases dark circles under the eyes.
To strengthen the capillaries and reduce puffiness around the eyes, the Advanced Eye Restore utilizes a combination of grape seed extract, caffeine, and seaweed extract.