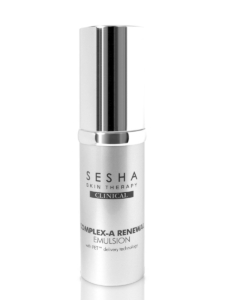 CLINICAL Complex A Renewal Emulsion
Highly concentrated with Vitamin A Retinol, the Complex-A Renewal is a light emulsion that targets lines, dull or blotchy texture, and pigmentation. Retinol, a gentle and non-irritating form of Vitamin A, increases the cell turnover rate to reveal renewed, dramatically smoother skin.
This emulsion also combines ketoglutaric acid and Vitamin C and is formulated with peptides Argireline™, to relax facial muscles, and Dermaxyl™. This combination results in significantly thicker, healthier skin quality.
Complex-A Renewal prevents further signs of aging and dullness in skin texture with centella asiatica. Centella asiatica is a plant derivative used traditionally in India, Africa, and Asia for inflammation that leads to visible imbalances of the skin such as wrinkles and lifeless skin.