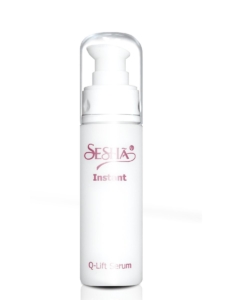 Q-Lift Instant Firming Serum
Q-Lift is a concentrated tightening serum that targets fine lines and wrinkles by instantly lifting and firming the skin. It contains macrocystis pyrifera, a natural marine algae that immediately smoothes away fine lines to give the skin a tight, rejuvenated feel. In addition, hydrolyzed wheat proteins help make the skin firmer, more elastic and better able to retain moisture. These proteins literally "grab" extract folds in the skin, pull them up and flatten them out for a soft, smooth feel. Newly formulated with PFC to immediately reduce wrinkles and improve the appearance of the skin.
Q-Lift also contains a powerful network of antioxidants – DMAE, Vitamin B and C – to protect skin against further free radical damage.