The Solution for Healthy, Vibrant, Rejuvenated Skin
Dermalinfusion is an advanced, 3-in-1 skin-resurfacing treatment that combines exfoliation, extraction, and infusion of condition-specific serums to improve skin health, smooth, hydrate and even skin tone.
A patented, non-invasive treatment, Dermalinfusion is fully customizable and the perfect solution to address a wide variety of skin concerns and conditions from head-to-toe and is suitable for all skin types and tones.
Precision-Timed Delivery
How?
Dermalinfusion eliminates time gaps between exfoliation and serum application with an exclusive simultaneous infusion technology.
Why?
By infusing the skin with serums at the moment of exfoliation, skin experiences maximum penetration of active ingredients at optimal skin depths, and enhanced serum absorption and retention receptivity at a deeper level.
Because of Dermalinfusion's distinctive simultaneous technology, plumpness, volume, hydration, tone, and texture are optimized.
What is the Process?
Your Nirvana certified technician will use the motorized handpiece to simultaneously exfoliate the skin, extract damaged particles and infuse optimized serums directly into the skin right at the prime moment of exfoliation. Depending on the specific skin condition, the technician will conduct a series of sessions, scheduled over 6 or 8 weeks, to achieve the best results for each individual client.
What does it Treat?
This procedure repairs hyperpigmentation, eliminates wrinkles and corrects rough or uneven skin texture. With four different serums—Pore Clarifying, Vitamin C, Ultra Hydrating, Skin Brightening—Dermalinfusion technology works for a variety of specific skin types and conditions.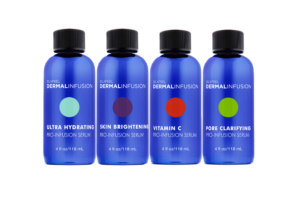 SERUM INFUSION
The key to the Dermalinfusion technology lies in its line of specifically formulated, professional strength Pro-Infusion serums. Each serum is the product of advanced research in skin care science and is designed to address a specific skin condition. Treats head-to-toe.
Pro-Infusion serums target specific skin concerns*:
Anti-aging: fine lines & wrinkles, sallow skin
Hyperpigmentation: dark spots, sun damage, PIH
Dry and dehydrated skin
Oily-prone skin
Congestion
Rough skin texture

What are the Results?
After just one session, skin looks more radiant, replenished and youthful. Multiple sessions based on your technicians' recommendation will:
Volume Skin by 70%**
Reduce the Appearance of Discoloration
Improve Radiance; Refreshes and Revives
Visibly Reduce Fine Lines and Wrinkles
Target Skin Concerns and Optimize Results
Give a Lasting Youthful Boost
Stimulate Healthy Cell Renewal
DermalInfusion BODY
Dermalinfusion offers a comprehensive body therapy treatment. The Dermalinfusion BODY System delivers a combination therapy, which simultaneously provides body polishing, vacuum massage and serum infusion. This unique combination addresses the underlying cellular processes that bring about skin imperfections in many areas of the body.
Each handpiece features an adjustable-depth tip, allowing the operator to treat a broad range of skin types and conditions associated with the body. High settings allow for treating cellulite, restoring elasticity, and providing deep lymphatic massage; while lower settings are for treating stretch marks, rough skin, and acne.
Neck/Décolletage: Improve textures and problem areas.
Upper Arms & Legs: The only treatment of its kind for Keratosis Pilaris – those little bumps on the back of upper arms and legs.
THE ONLY ADVANCED RESURFACING TREATMENT TO PROVIDE A COMPLETE HEAD-TO-TOE EXPERIENCE.
All-over body skin rejuvenation reduces*:
Sun damage, fine lines and wrinkles on décolletage
Stretch marks on the abdomen or breasts
Back acne
Cellulite on the thighs
Bumps, dryness, and discoloration on the arms and around elbows
Extreme dryness and/or cracking on hands and feet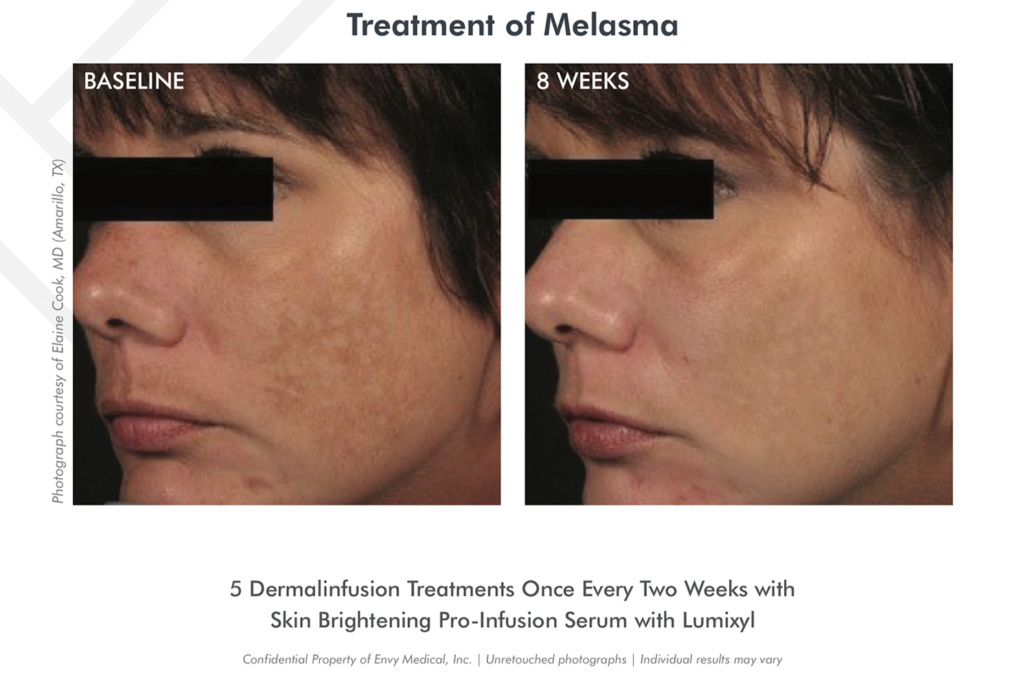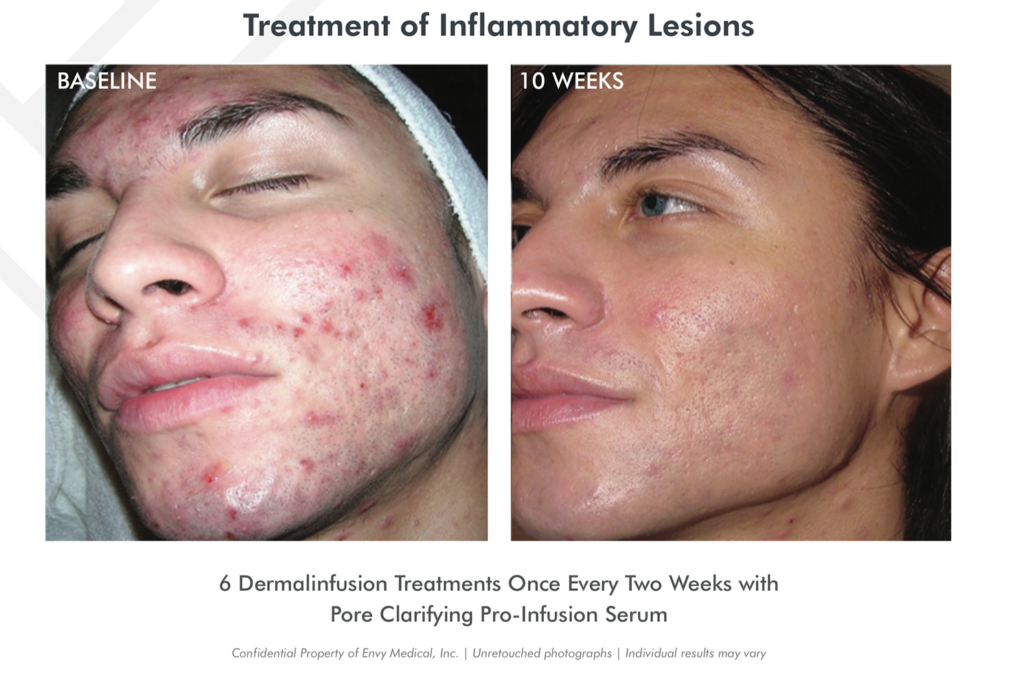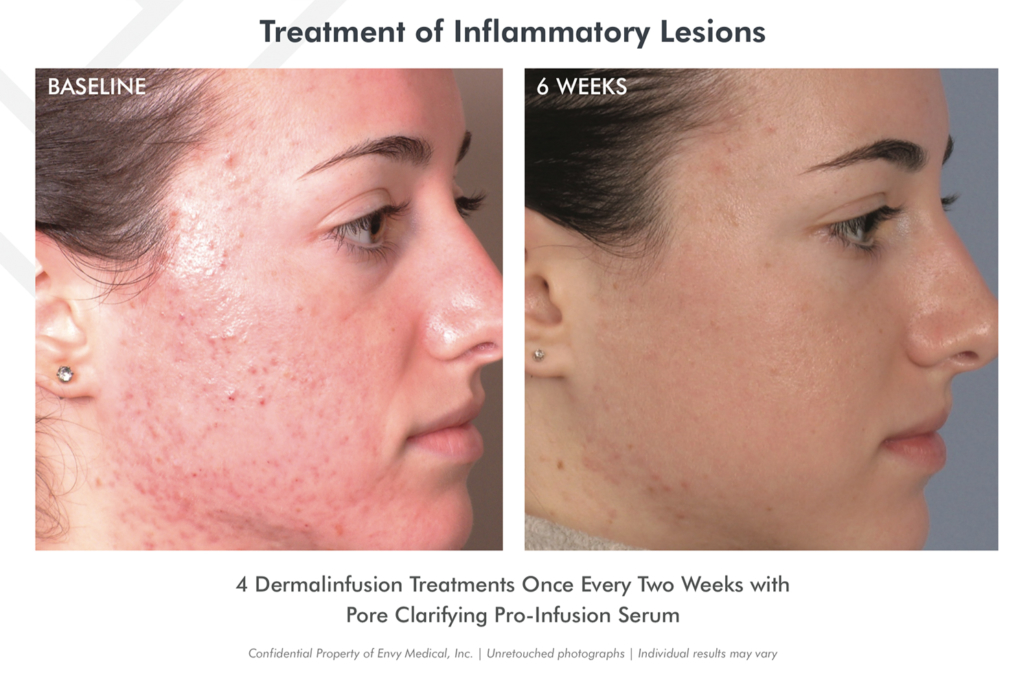 Results may vary by individual. Any claims made on this website are not guaranteed.